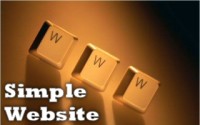 If you need a way for clients or customers to find you, but you don"t want to sell your products online, then this is the perfect solution for you!
You get:
Basic pages: Home, About Us, Contact Us, Blog/Articles, Photo Gallery, Product Info/Service Info
A built-in content management system (such as WordPress or GetSimple), including several popular and useful add-ons.
Custom styling, based on a theme or layout of your choice.
Incorporate your logo, style guides, color wheel, or whatever you use to brand your products or services.
Two hours of training for up to three learners. I teach you how to use the system, so you can do your own updates easily!
$600 (+90 for hosting/domain registration)
Price varies based on the required features. Listed price is an estimate only.